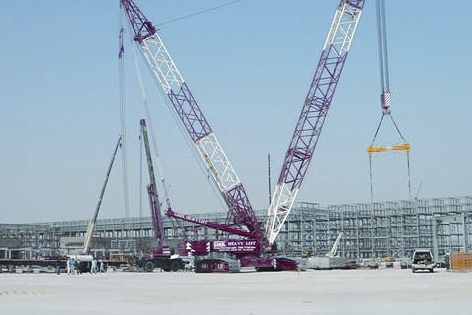 Hawiyah NGL Recovery Plant
Located in the Eastern Province of the Kingdom of Saudi Arabia, on a site approximately 3 km east of the existing Hawiyah Gas Plant, the Hawiyah NGL Recovery Plant project consisted of the construction of foundations and 14 building structures along with the related E&M works. It was executed in joint venture with Modern Arab Construction Co. Ltd.
The facility spreads on a surface of approximately 1.8 km2 at approximately 215 m above sea level.
The buildings are sorted as follows:
• 4 nos. of pre-cast concrete structure and wall buildings
• 5 nos. of cast in-situ concrete structure buildings
• 5 nos. of steel structure buildings
• 2 main sub-stations
• 2 area sub-stations
• 2 team / maintenance buildings
• 2 process interface buildings
• 2 smoking shelters
• bulk chemical storage building
• radiation storage facility building
• hazardous waste transfer station
• power distribution maintenance building
The civil works package also includes:
• asphalt concrete roads
• area paving (concrete and asphalt concrete)
• fencing
• DGA sludge ponds
• sump and burn pits
• flare structure foundations
• pipe racks
• elevated structures
• equipment
• sleepers and miscellaneous/ minor support foundations
The mechanical scope of work includes:
• fire water line
• storm and oily water system
• drinking water and utility water lines.