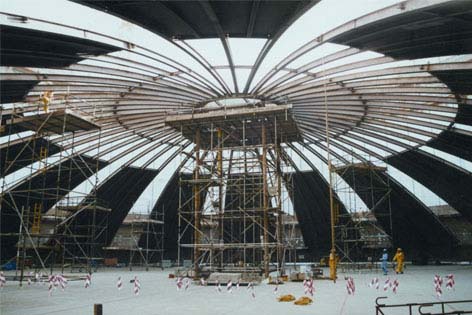 Propane Storage Tank Umm Said
Made of a reinforced concrete structure of a capacity of 58,000 m3, the tank is circular in plan, with a 58.64 m diameter and a height of 26.68 m. Kettaneh Construction work involved soil improvement and the construction of a 1 m deep reinforced concrete ring wall foundation and a 30 cm thick base slab.
Conduit heaters were installed at 1 m center to center over the slab area and walls which were tapered, 1.2 m thick at the base and 0.60 m thick at the top.
A steel ring beam was installed at the top of the tank to support the roof slab. Concrete was poured in nine vertical sections using climbing formwork.
The whole project was executed within a very tight deadline of eight months, with respect to strict quality standards and tolerance requirements.